What is Internationalt Forum (IF)
Solidarity across borders – between rebellions
Internationalt Forum, or IF, is an anti-imperialistic solidarity organization. We support and collaborate with grassroots movements and political groups around the world resisting and fighting imperialism and imperialist institutions such as the IMF, The World Bank, NATO, and the WTO.
We fight for a world where our planet's resources are shared equally and where the right for autonomy and diversity is paramount. Our solidarity work is currently focused on Latin America, the Middle East, Southeast Asia and the Basque country.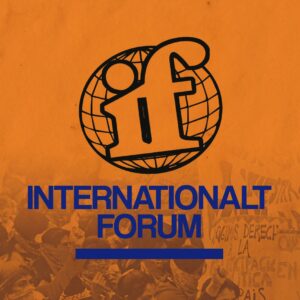 Organization
IF consists of two types of groups, which are defined by either their geographical placement in Denmark or their thematic/regional focus, in daily terms referred to as 'local groups' and 'issue based groups'. The groups themselves are responsible for most activities in IF and work autonomously within the political framework of the organization, as introduced above.
Next to the different groups, IF is managed by a board taking care of questions of administration, econonomy and political lines concerning the organization at large. The board includes representatives from the different groups in IF who are chosen at the yearly general assembly.
The issue based groups provide information about the conditions in the regions they work with and pass on experiences from social struggles and political organizations related to their work.
Currently speaking, for example, we have a group working on social issues in Mexico focusing on the Zapatistas and indigenous people's struggle against oppression, land theft and exploitation.
The mentioned group is called the Mexico group. Other groups include the Colombia group, the South East Asia group and the Middle East group. Mostly, these groups meet in Copenhagen, all though they are not bound to nor limited by specific geografics. Meet-ups depend on the group members and cross-national groups occur and are highly supported.
Next to the issue based groups, IF also has 'local groups' spread across Denmark, which are defined by their geografic placement – and not by a specific political or regional issue. Right now there are three active local groups based in Aarhus, North Zealand and Copenhagen, respectively. These groups work across regions and topics but always with anti-imperialism and solidarity work as their starting point and common interest. This makes the groups able to address new prevailing issues that are relevant to their local area.
In 2021, for example, IF Copenhagen has been involved in, among other things, campaigning against a local company profitting from the Israeli occupation of Palestine, as well as targeting the local university's Sports Department demanding a full boycott of the FIFA World Cup in Qatar 2022 due to the missuse of and violence against low-paied migrant workers, working conditions that literally kills..
Doing international solidarity work, activists in IF hold lectures, show films, organize study trips, carry out political actions and larger demonstrations, throw support-parties, collect money for different means, and facilitate seminars with international guests, e.g.
To grow stronger as an anti-imperialism movement in Denmark it's important to have groups across the country – for both national campaigns and local strategies.
If you want to get involved in one of the groups, or if you would like to start a new local group, please reach out, get in touch and hear more! Write us an email to info@internationaltforum.dk or through Facebook.
Solidarity Shop
Drop by IF's Solidarity Shop in Copenhagen, have a cup of coffee and look through our big collection of political materials, books and merchandise. In the shop, you can buy T-shirts with various political statements, books on anti-imperialism and political struggles from all over the world, as well as solidarity products such as coffee from the Zapatistas in Mexico and olive oil from Palestine. When buying items in the shop you support political groups and movements around the world.
Solidaritetsbutikken ("Solidarity Shop")
Address: Griffenfeldsgade 41, 2200 Nørrebro, Copenhagen
Opening hours: Monday-Friday 2-5 P.M.
Gaia – international solidarity magazine
IF published the magazine Gaia in the years 1992-2019. The magazine focuses on social struggles and liberation movements from around the world. Through interviews, reports and analyses the magazine conveys in-depth knowledge on political issues that are so rarely illuminated in mainstream media.
Become a member
As a member of IF you can take an active part in our international solidarity work, or you can support the work from the sideline – that's up to you! Either way, financial support is important for the organization to run. The yearly membership fee is suggested 200, 400 or 600 DDK. IF allows all members to decide for themselves how much they want to pay as membership fee, out of respect for the various economical conditions people might live in.