What is the International Forum (IF)
Solidarity across borders – between rebellions
The International Forum, or IF, is an anti-imperialistic solidarity organization. We support and collaborate with grassroots movements and political groups around the world resisting and fighting imperialism and imperialist institutions such as the IMF, The World Bank, NATO, and the WTO.
We fight for a world where our planet's resources are shared equally and where the right for autonomy and diversity is paramount. Our solidarity work is currently focused on Latin America, the Middle East and South East Asia.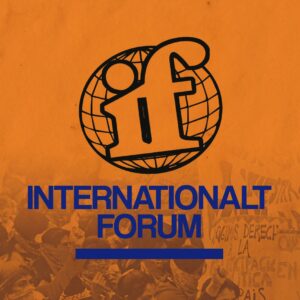 Organization
IF consists of two types of groups, which are defined by either their geographical placement in Denmark or their thematic/regional focus, in daily terms referred to as 'local groups' and 'theme groups'. The groups themselves are responsible for most of the activities in IF and work autonomously within the political framework of the organization.
Next to the different activist groups, IF is managed by a board taking care of questions of administration, econonomy and political lines concerning the organization at large. The board includes representatives from the different groups in IF and are chosen at the yearly general assembly.
The theme groups provide information about the conditions in the regions they work with and pass on experiences from social struggles and political organizations related to their work. Currently, these groups mostly meet in Copenhagen, all though they are not bound to nor limited by specific geografics. A theme group may include activists from different parts of Denmark and work decentralised.
Next to theme groups, IF works through local groups spread across Denmark. Right now there are three active local groups, which are found in Aarhus, North Zealand and Copenhagen. These groups work across regions and topics but always with anti-imperialism and solidarity work as their starting point and common interest. This makes the groups able to address new prevailing issues that are relevant to their local area in Denmark.
Doing international solidarity work, activists in IF hold lectures, show films, organize study trips, carry out political actions and demonstrations, throw support-parties, facilitate seminars with international guests, e.g..
To grow stronger as an anti-imperialist movement in Denmark it's important to have groups across the country – for both national campaigns and local strategies.
If you want to get involved in one of the groups or if you would like to start a new group that you currently find missing, please reach out and get in touch. You can contact us by e-mail – info@internationaltforum.dk – or through Facebook. We are always happy to answer questions and share more information about our work. 
Solidarity Shop
Drop by IF's Solidarity Shop in Copenhagen, have a cup of coffee and look through our big collection of political materials, books and merchandise. In the shop, you can buy T-shirts with various political statements, books on anti-imperialism and political struggles from all over the world, as well as solidarity products such as coffee from the Zapatistas in Mexico and olive oil from Palestine. When buying items in the shop you support political groups and movements around the world.
Solidaritetsbutikken ("The Solidarity Shop")
Address: Griffenfeldsgade 41, 2200 Nørrebro, Copenhagen
Opening hours: Tuesday-Friday 2-5 P.M.
Gaia – international solidarity magazine
IF published the magazine Gaia in the years 1992-2019. The magazine focuses on social struggles and liberation movements from around the world. Through interviews, reports and analyses the magazine conveys in-depth knowledge on political issues that are so rarely illuminated in mainstream media.
Become a member
As a member of IF you can take an active part in our international solidarity work, or you can support the work from the sideline – that's up to you! Either way, financial support is important for the organization to run. The yearly membership fee is suggested 200, 400 or 600 DDK. IF allows all members to decide for themselves how much they want to pay as membership fee, out of respect for the various economical conditions people might live in.
Political platform of International Forum
The ressources of the world are unevenly distributed. The main part of the labor of humanity goes to secure the wealth of the few, who own the means of production. Internationalt Forum is an anti-imperialist solidarity organization that wants to change this.
Imperialism
Imperialism is interconnected with capitalism. Imperialism is characterized by a ruling class of a nation state that goes beyond its borders in search of raw materials, markets and cheap labor. Imperialism has many forms of exploitation like looting and the repatriation of profits. Imperialism uses many politics: from pressure, racism, terror laws to direct military power. Imperialism has many institutions at its disposal: IMF, the World Bank, WTO, NATO and the multinational corporations. Internationalt Forum takes a critical stance towards the UN, which is controlled by imperialist super powers.
Anticapitalism and anti-imperialism
Internationalt Forum is fighting for a world with equality between human beings no matter class, a world for everyone no matter place of birth, gender or sexual orientation. To us, class solidarity is more important than citizenship. Class oppression, racism and discrimination are interconnected with capitalism. Anti-imperialism is therefore also anticapitalism.
Solidarity
Solidarity means common struggle against oppression, no matter where in the world it takes place. We work in solidarity with the farmers, the women, freedom movements and workers movements around the world. We make and mediate analyzes of the class- and freedom struggle in the focal points of the world. We invite representatives of these movements to Denmark, so they get an opportunity to tell about their struggle. We exchange points of views and experiences. But when we have started a collaboration with an anti-imperialist movement, we don't set requirements for solidarity. We mean that people themselves are the best to choose the path of their struggle. Solidarity goes beyond borders. We fight the ruling powers' attempts to divide the working class and the solidarity work with the use of borders and terror laws.
Visions
Our perspective is global. It is from this point of view we elaborate our strategies. We fight for an equal and democratic world. Nobody is free before all are free. We won't change the world with reforms and quick solutions. The crimes of imperialism can only be abolished through a radical break with capitalism and the establishment of a world order with equal distribution of goods in balance with nature.
Organization
Internationalt Forum was founded in 1972. Through the years we have supported freedom movements on all continents and collected knowledge and experience, which we have to build upon. Continuity in solidarity work is important.
IF is a grassroots organization that's founded on activism and democracy from below. IF is an extra parliamentary organization and not associated with any political party. IF cooperates with other organizations on the left wing. IF does not work together with religious organizations or parties.
IF is an umbrella organization, which consists of independent groups, who themselves plan their activities and coordinate their work through the board.
(Latest revised on IF's general assembly November 2019)